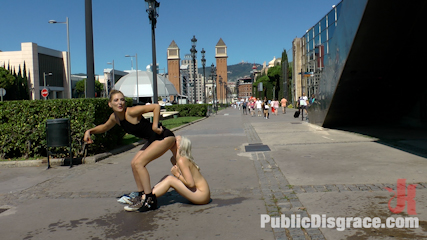 Liz Rainbow is back on Public Disgrace in Barcelona and ready to be completely humiliated in front of huge crowds!

Part 1 Fitness Domination
This perky blonde slut needs a workout! And there is no better kink fitness instructor than Mona Wales. Liz Rainbow gets stripped down naked in public and runs a few laps to show off her fat piece of ass. Followed by some naked burpees and ass kissing sit ups this slut gets the full work out. What better fitness then fitting this dick in her mouth, Mona finds 2 huge public cocks to stuff down her throat while the audience gets to rip off a whole zipper of clothespins. This chubby skank is a fat cock loving whore! Finally she gets a bath in a public fountain her hot cunt drenched in freezing cold water! Do not miss Liz Rainbow completely naked in public and sucking off cocks!

Part 2 Double Penetration
Liz Rainbow gets tied up in some tight rope bondage and paraded around a crowded clothing store shocking customers. Everyone gets their hands on this filthy bitch. Some customers get to slap her fat ass while she gets stuffed in every hole! Nipple clamps, Corporal Punishment, Caning, Hot Wax it's all fair game! Finally for her last workout Liz gets fisted and double penetrated while everyone holds her down and then drenched in hot cum!