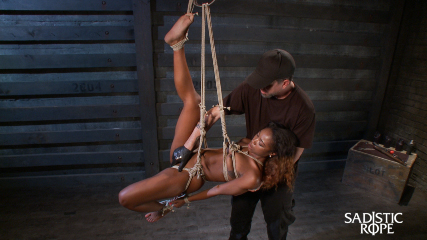 Chanell begins with her legs spread and her arms pulled over her head. her body gets a hard flogging, slapped around, and a little breath play. This is how we find out what this slut is capable of handling.
Next we have her beautiful ass showcased. The pace is picked up quite a bit and Chanell is screaming in agony while her body is punished. her cunt is filled with a dildo and she gets fucked into oblivion.
Now Chanell is suspended with one leg up and the other pulled behind her and tied to her wrists, leaving her completely helpless. She is shocked and tormented more until she gets another orgasm.
Chanell is tied to a bed spread wide and nervously awaiting the next level of torment. Her skin becomes sensitive after more flogging and then is covered in hot wax. One last orgasm is squeezed out of her to complete this whore's session of pain.