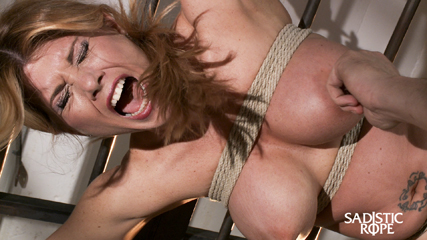 Carissa comes in saying how much she loves tight bondage, so we start the day by tying the slut to the ceiling of a prison cell. She is spread eagle and helpless to what is going to happen next. Her exposed pussy gets an intense flogging before a vibe is applied to rip the first of many orgasms from her body.
We start the next scene with Carissa being manhandle and made to cum, before she is bound to a wooden post and flogged and face fucked. Another orgasm is taken from her as she screams.
Next she is spread against the wall with her pussy fully exposed. Her feet will suffer from a severe caning before we pay any attention to her whore pussy, but when we do, it will be filled with cock, and made to cum.
Finally, we have this whore bent over and her body gets another dose of The Pope's cane. A hook is added to keep her head up high to see her face as more orgasms are taken from her willing pussy.